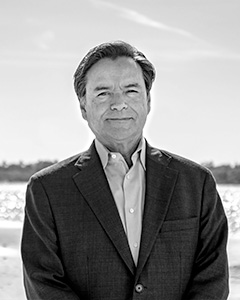 Ken O'Rorke
Ken O'Rorke is Chief Executive Officer and holds responsibility for oversight, strategy, and development facets of the company.
Before joining Suncoast Equity Management in 2021, Mr. O'Rorke held senior corporate executive roles at Bank of America primarily in the areas of Risk, Regulatory Compliance, and Process Management and Business Transformation. He retired from Bank of America with 22 years of service having also worked with Chase Manhattan Bank.
Prior to rejoining Bank of America in 2002, Mr. O'Rorke worked as an investment banker specializing in the media and telecommunications sectors in Latin America and Eastern Europe. His firm, Emerging Media Investments, was a joint venture including investments from Farallon Capital Partners and Alta Communications, which identified and developed investment opportunities in Eastern Europe. Prior to forming EMI, he managed international mergers and acquisitions activity for InterComm Holdings a global broadband communications company based in Denver, CO. Prior to joining InterComm he served as Director of Business Development for TV por Cable Nacional, the third largest broadband communications company in Mexico and a portfolio investment of private equity firm Hellman & Friedman. He began his work in investment banking at Communications Equity Associates in 1989.
He began his financial industry career in 1980 at Exchange Bank and Trust Co of Fl. which was merged into NCNB National Bank in 1983, eventually becoming Bank of America.
Mr. O'Rorke is a NACVA Certified Valuation Analyst and holds certification as a Lean Six Sigma Black Belt. He graduated from University of South Florida with a Bachelor of Arts in economics and a concentration in finance. He also earned his Master of Arts in economics from USF. He also completed the Wharton School of Business Executive Marketing Program.